Hello, this is my portfolio update for the month of December. At the moment I normally get payed at the end of the month. I try to send out my hard earned money to the different investment platforms right away so I can put my money to work as soon as possible. For this reason I will always give a portfolio update before the month is actually over. My investments for the month of January will start now as well and otherwise they would show in the numbers of this month.
Don't forget that you can always find an up to date overview of all the 'numbers' in my portfolio on the My Portfolio page.
My Income, savings and expenses stayed the same as last month, for now. I've got promoted at work so hopefully next year I will be able so save and invest even more!
This is my portfolio allocation at the end of December 2019. I will always check if I reached my saving and investment targets (as seen by the 'OK' / 'NOT OK' below as well as the changes in value of my investments.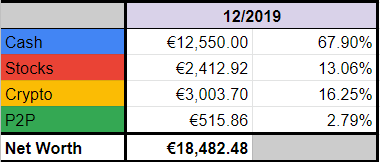 cash: Saved €700 – OK
Stocks: Invested €600 + €43.97 appreciation – OK
Crypto: Invested €100 + €76 depreciation – OK
P2P: Invested €150 + €3.07 appreciation – OK
As you can see, I've reached my targets for this month once again! My stock portfolio gained some value over the course of this month which was nice. My crypto portfolio lost some value but what can you do? I'll keep buying on the way down and lets hope things turn around soon! I've also gained more than €3 in interests from my P2P Lending investments which I think is quiet nice after only 3 months. I'll be at my 10€ target quiet soon this way.
Again, thank you for so much for reading, this was not a bad month at all and I can't wait to see where everything will go in the months ahead!