Good day fellow investors or soon-to-be investors! Another month has passed so here I am again to take a look at my portfolio. It was a hectic month at work, but I managed to write a blog article other than the standard portfolio updates. That had been a while so hopefully, this is the start of me getting back on track with the blog. My portfolio has not been performing great the last couple of months and May was no different. Let's take a closer look at my portfolio update for May 2022!
Don't forget that you can always find an up-to-date overview of all the 'numbers' in my portfolio on the My Portfolio page.
I have managed to be more consistent with my savings over the last couple of months. I was able to continue that in may to a certain extent as well. Another €1500 was added to my savings account. This gets me very close to the €10.000 target. Normally, I try to save/invest €2000 each month. This time around it was a bit less because of some important birthdays coming up as well as a family weekend for which I am setting aside a couple of hundred euros.
May was not the best month for my ETF portfolio. I have said before that I don't believe that 2022 will be the best year for investment markets in general. This view has not yet changed. COVID still has its influences but more important is the war in Ukraine, of course. There are a lot of tensions worldwide. This creates uncertainty and the last thing that we want for our investments is uncertainty. All this contributed to my ETF portfolio losing €2-300 this month. Keep in mind that this is a long-term game. Don't panic and stick to the plan. My worries are mostly in other places than the value of my portfolio at the moment. Let's hope tensions around Russia go in the right direction and we don't see any further escalations with NATO.
The crypto-portfolio continues its nose-dive, losing another ~€12.000 in value over the past month. Standing at around €27.500 we are far away from the highs back in October last year when we reached a high of €60.000. That being said, we always knew crypto was a volatile market! This is not abnormal and has happened before. It could potentially be a good time to start adding to the positions but only time will confirm or deny this!
Last month I also spoke a little bit about the Finxflo investment that I made. The last news from the company stated that they are making a lot of internal changes including a new CEO. I have lost close to all money I invested in this project and I am considering this a complete loss at the moment. If they manage to turn things around in the future, good, otherwise I have just learned from my mistakes.
There are no changes in my cash flow since last month. You can still see an overview in the screenshot below. Right now I am trying to save as much money as possible in cash as mentioned above.
Keep in mind that I have money coming in from a second (restaurant) job, as well as my side hustle. This is not mentioned in the screenshot below as it is not really predictable at this time.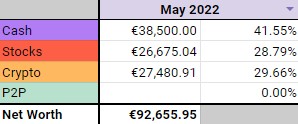 Cash: Saved – €910
Stocks: Invested €0 – 

€257.60

 depreciation
Crypto: Invested €0 – €11 603.86 depreciation (!!)
I mentioned before that I added €1500 to my savings account. Above you can see that my total cash saved only increased by €910 euros. This is because I had some expenses in my personal business account. Also, keep in mind that most of my total cash position is in a real estate company that I started with two friends. We have already bought one apartment which we will start renovating at the end of this month and are currently looking into buying a second one. This means that the €30.000 cash that is allocated to the real estate company is not all cash at the moment to be completely transparent. I will try and make a separate blog post on this topic to get a bit more into the details.
Cryptocurrency markets are losing a lot of value over the last couple of months. I am along for the ride. We are almost becoming veterans and these swings don't bother me at all. I will see you on the other side of this bear market. If history is any indication there will be a time when the charts will go strongly in the other direction as well!
My ETFs are still doing their job, though, depreciating a little bit this month. If everything goes according to plan, I will be able to continue adding to these positions in a month or two.
I have had way better months but fundamentally nothing really changed from last month. We can't go down forever, the same way as we can not go up forever. Times will change and we will be here to see it! This was it for my portfolio update for  May 2022, good luck to you all.