Hello, fellow investing enthusiasts. Another month has passed and it seems like they are just flying by at this point. Am I just getting old? That being said, it was not the best month both portfolio-wise as well as investing- and saving-wise. Let's take a look at my portfolio update for September 2021.
Don't forget that you can always find an up-to-date overview of all the 'numbers' in my portfolio on the My Portfolio page.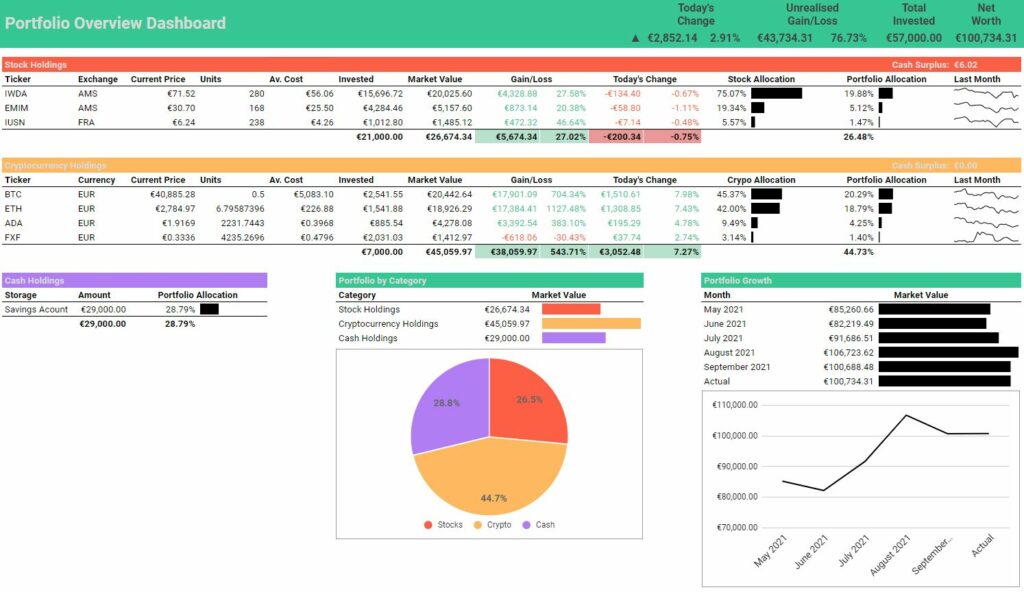 In my last portfolio update, I saw a possibility for a little cool down, especially after the 2 great previous months. This is exactly what happened. Both in the crypto markets and the stock market. It is nice to see that we still manage to stay above €100.000, although it is only with a small margin.
My ETF portfolio took a decent hit this month. It went down by around €700. The markets are reacting to bad news coming from china concerning the slowing of economical growth and the real estate market. Only time will tell how this plays out further. The only thing we can do is not forget that we are in this for the long run! Selling should not be on our minds, in my opinion.
My crypto portfolio also went down. Here we (temporarily) lost €5.300. Not a small amount of money by any means but we have had worse! There are some small changes in my crypto portfolio since Coinbase has now made it possible to stake Ethereum. I decided to move my money out of Nexo. This meant selling the small amount of Nexo coins I had. I also decided to sell the small amount of bitcoin I had on Nexo for Ethereum. Now my Ethereum is slowly generating passive income for me!
I made some small changes to my portfolio spreadsheet which also meant updating my cash flow table. You can see the result below. I am currently bringing in around €2.200 of which I try to save €1.700. This month I did not manage to save anything due to a two-week holiday to Sweden and some quite expensive gifts that I bought for my Girlfriend. Luckily she was very thankful!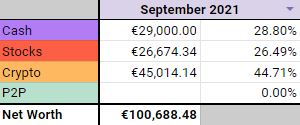 Cash: Saved €0
Stocks: Invested €0 – 

€700.70 

depreciation

Crypto: Invested €0 – 

€5 334.44 depreciation
This has to be the first month since I started my blog where I did not manage to save or invest anything. Although it was for a good cause, in my opinion, I am more motivated than ever to get back on track.
Like I have mentioned before, both parts of my portfolio went down during the course of last month. September is known to be a bad month in the crypto world and it delivered. Let's pray for a better month this time around!
This was my portfolio update for September 2021. It is not the worst month that I have had so for but certainly not the best one. We have spent quite some months in the game by this time so we are getting used to it of course. Let's see whether October will be better!