Hi everyone, are months just days now? I am getting old! Fortunately, this was a very good month so I can't really complain. I did not manage to save as much as I want but gains in the stock market and the cryptocurrency markets made up more than the difference! Let's take a look at my portfolio update for October 2021!
Don't forget that you can always find an up-to-date overview of all the 'numbers' in my portfolio on the My Portfolio page.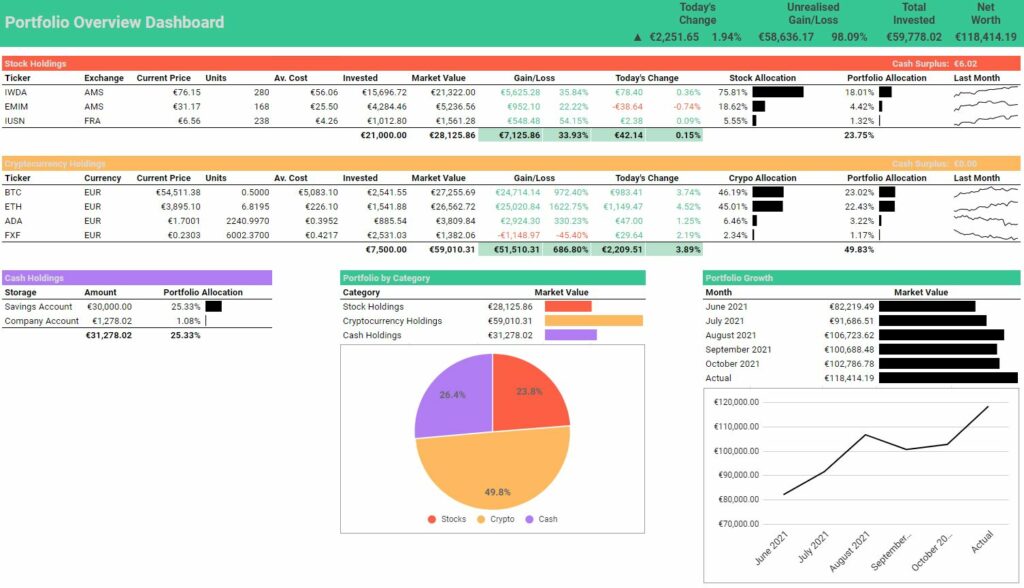 Last month, we barely held on to the €100.000 portfolio milestone. October had something completely different in mind. The total portfolio gained around €18.000 in value. Less than two years ago my portfolio was not even worth €18.000 in total. Crazy how fast things can change.
The ETF side of my portfolio had an amazing month. Gaining almost €1.500, I think this is the best month yet for my ETFs. Unfortunately, I did not manage to add anything to my ETF positions this month. Hopefully, we get back on track soon!
I don't have to tell you that cryptocurrencies did even better. Gaining around €14.000 in value over one month is just way more than I could wish for. Don't forget that it could go the other direction just as easily!
Nothing changed to my cash flow over the last month. In the next screenshot, you can find my income, savings and investments, as well as expenses for every month.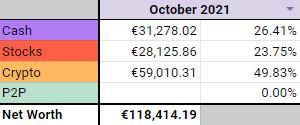 Cash: Saved €1000 (also added my company account to the sheet)
Stocks: Invested €0 – 

€1 451.52 

appreciation (!)

Crypto: Invested €0 – 

€13 950.34 

appreciation (!!)
It has been a hard month for different private reasons but fortunately, I can not complain financially. I am not completely back on track when it comes to my savings rate but I'll work on that as soon as possible.
Except for that, the only thing that I can do is focus on my dreams and hope that the markets are in my favor!
This was my portfolio update for October 2021. This was the best month I've had so far. Let's see of more months like these can follow.