Hello Investors. Another month has passed, let's take a look at how my portfolio performed in this portfolio update for October 2020! This month was quite a nice month for my overall portfolio. The stock market has had some losses but these were more than made up for by the cryptocurrency part of the portfolio. Proof that diversification is key!
Don't forget that you can always find an up-to-date overview of all the 'numbers' in my portfolio on the My Portfolio page.

As you can see we are still in the green across the board. My ETFs went down a bit during the month due to COVID getting worse all over the world. A lot of European countries are in (semi) lockdown again, including Belgium starting tomorrow.
The cryptocurrency part of my portfolio is certainly performing the best. It is up around 70% at this moment while the stock part of my portfolio is up around 5%. I've always said that cryptocurrencies are a riskier and more volatile investment. The other side of that coin is potentially a higher reward. This is something that we are seeing right now and I do think that there is still a lot of room to grow. But who am I to make that prediction, right?
My P2P lending portfolio is almost totally liquidated. I am thinking about completely removing it from the spreadsheet since I have only €25 of my own money still on the platform.
My monthly cash-flow is still the same this month. This month I invested €1200 into the stock market instead of €1000. I had some extra money leftover due to spending almost nothing. I decided to put €100 in two different stocks just to have some fun and to learn a bit more about stock picking. You can read my stock analysis on Albertsons (ACI) here!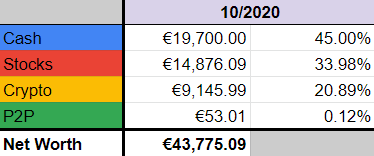 Cash: Saved €700
Stocks: Invested €1200 – €273.23 

depreciation

Crypto: Invested €100 – €1863.14 appreciation (!)
P2P: Transferred €15 to my bank account
Overall, you can see that this was a pretty decent month. Not counting the P2P transfer I've invested €2000 this month which is quite a lot! If only I could do that every month! If everything goes well, I should be able to pass the €50.000 mark at the beginning of 2021!
This was it again for my portfolio update of October 2020. If you have any questions about my portfolio or investing in general, please feel free to leave a comment down below or contact me personally. I am always very glad to help a fellow investing enthusiast!