Hello everyone! March ended a couple of days ago, so here I finally am with another blog post. Is it just me or does new years day feel like it was just a week or two ago? I will not be going off-topic here this month. I believe we are all aware of current world events. I really hope better times will come as soon as possible.
That being said, let's get into the portfolio update for March 2022.
Don't forget that you can always find an up-to-date overview of all the 'numbers' in my portfolio on the My Portfolio page.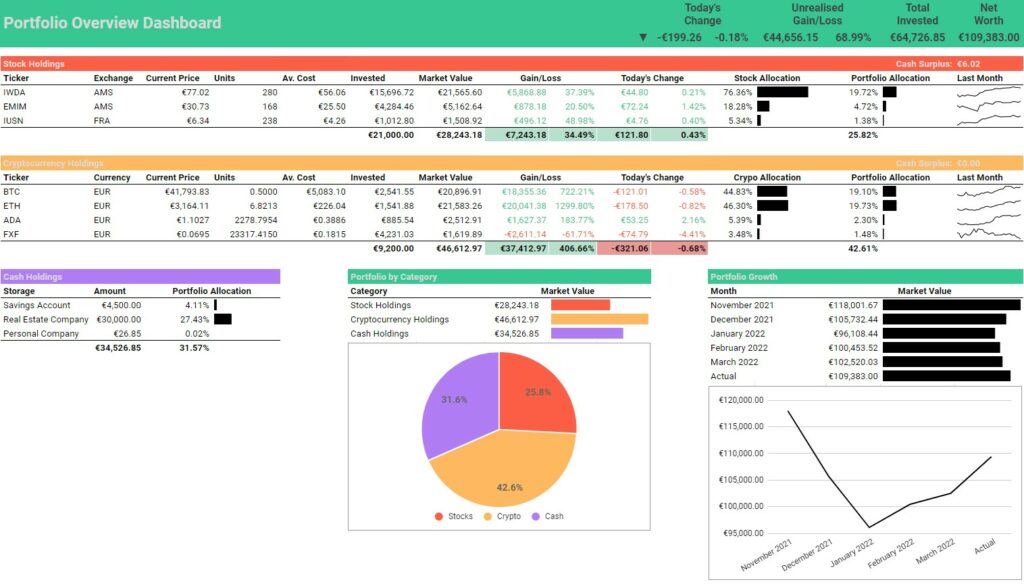 Last month we crossed back into the 6 figure net worth territory. In March we fortified that position a little bit. Closing the month at around €109.000 is nothing to complain about, in my opinion. I also managed to get back on track with saving a bit more money!
My ETF positions actually gained more than €1.000 in value this month. Which is not bad at all! I hope to get my savings account back to €10.000 as fast as possible. Once this is the case I want to ramp up my ETF investing again!
I also invested a bit more in cryptocurrencies in March. This is a riskier investment though. I am following a smaller project called Finxflo. What they are trying to accomplish is very interesting. I do believe that they are slacking a bit on the progress made but I hope they can turn it around. I have to be open here and say that this has the potential to be my worst investment so far. I am also not recommending anyone to invest in projects like this. As always, do your own research and draw your own conclusions!
As told in last month's update, I am making around €2.300 every month. On top of that, I also get ~€150 in meal vouchers. Right now I try to save €2.000 in cash while not investing (much). This is because I need to get my savings account back up after some expenses over the last months, together with starting a business as well.
Keep in mind that I also have some income due to working a weekend job occasionally. I also do some web design on the side. Income from these sources is not represented in the screenshot since it is unpredictable.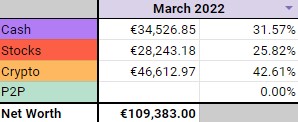 Cash: Saved – €1008.36
Stocks: Invested €0 – 

€

1057.84 appreciation (!)
Crypto: Invested €500 – 

€6 363.28 appreciation (!)
All three categories of my portfolio are in the green this month! What does an investor need more?
My cash savings are at €4.500 right now which is almost half of what I would like them to be. I hope to reach €10.000 by the summer. I also still have around €30.000 worth of cash in the real estate company that I started with two partners a couple of months ago. We are still looking for the right property and have made several offers already but none with success so far. I will update the Euro amount of this account after we finish our first project.
It has been some months since I last invested in ETF's, unfortunately. I hope to get back on track in the near future. In the meantime, the ETF portfolio has performed as expected and gained a nice amount of value over the last month. Nothing to complain about here!
The crypto markets have done fairly well in March. Only my Finxflo investment that I talked earlier about is down. Luckily, I don't have a very big position in this investment. My other cryptocurrencies easily offset the losses I currently have with FXF. I also have made +€500 staking Ethereum and Cardano at current prices. These gains are not yet represented in my sheet but will be in the future.
I hope all of you are still trying to build some wealth like I am. Times are not always easy and not every investment will be as good as the next one but let's just keep on the grind and hopefully get the rewards in the future! All-in-all this was a good month. I am getting back on track!