Hello, fellow investing aficionados! The tables have turned! Another month has passed and I am back at it again with my portfolio update for July 2021. After some red months, we finally had another green one! Let's take a look!
Don't forget that you can always find an up-to-date overview of all the 'numbers' in my portfolio on the My Portfolio page.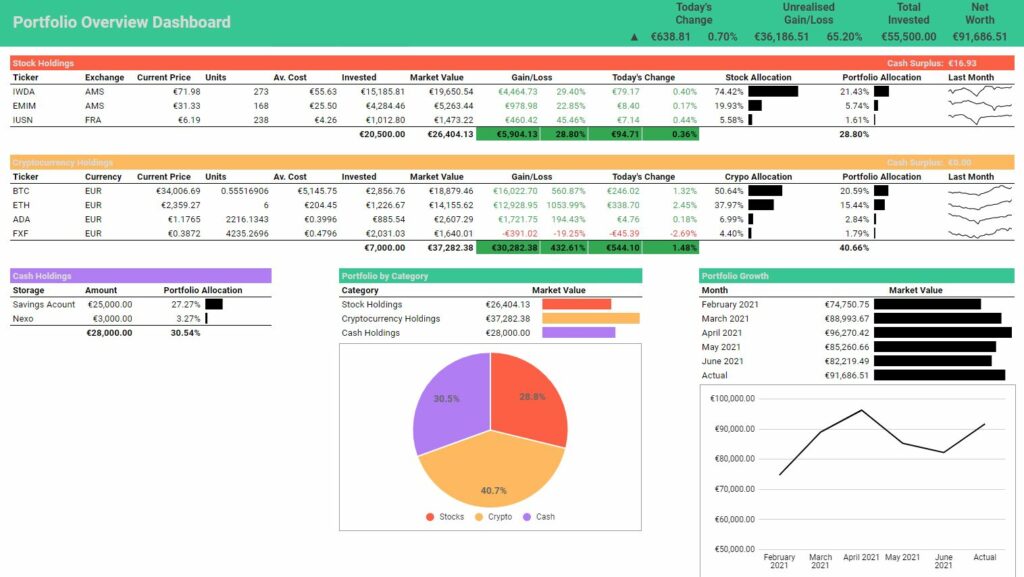 After two painful months, my net worth is finally trending upwards again. This is mostly due to my cryptocurrency positions but let's take a look at my ETFs first! Nothing crazy happened here this month. We are still cruising and slowly trending up as expected in 'normal' times. They gained around 200 euro in value this month which is certainly nothing to complain about. My ETFs are 100% stocks but next to cryptocurrencies they seem like the least volatile investment ever!
Now to the more exciting part! After trending down for a couple of months, the crypto-markets finally decided to go back up again. I have mentioned before that I don't think that the bull run is over and I still believe this today. Most news you hear in the crypto space is positive and the price has a good chance of following. Naturally, I am no psychic so remember that I don't know anything more than you do!
I made a little chance with my cryptocurrencies as well as part of my cash. I have decided to put a portion of both my cash and my cryptocurrencies on a platform called Nexo. Most of my crypto is still on a hardware wallet but I like the idea of some passive income. I also believe that Nexo has one of the best platforms out there. This together with their reputation caused my decision.
My monthly cash flow is still the same. Again, I saved a bit more cash and invested a bit less due to possible future projects.

Cash: Saved €1500
Stocks: Invested €500 – 

€181.68 

appreciation

Crypto: Invested €0 – 

€7285.34 appreciation (!!)
As mentioned before, the performance of my ETFs is slow and steady. Still sticking to the plan and adding more and more to my positions on a monthly basis.
Cryptocurrencies have made a complete reversal compared to the last two months. We made some pretty nice gains and can only hope for more to come!
This was it for my portfolio update of July 2021. Last month thought the worst was behind us. July provisionally proved me correct. Let's see what August has to bring!