Hello, fellow investing enthusiasts. Another month has passed and I am back at it again with another portfolio update for July 2020. It was a very decent month with some nice gains in the cryptocurrency port of my portfolio. Let's take a look!
Don't forget that you can always find an up to date overview of all the 'numbers' in my portfolio on the My Portfolio page.
Every investment category is still in the green! My ETFs did nothing very exciting this month but my cryptocurrency portfolio had some pretty nice gains. Very interested what next month will bring. It could, of course, be a very sharp pull-back as well! Only time will tell.
I'm also excited that I am also getting quite close to the €20.000 in cash milestone. This month I got paid my vacation money as well, which caused me to invest a little more than usual. Unfortunately, I have to pay almost €600 in taxes later this year. A big chunk of my vacation money is set aside for this as well, which is not shown in this portfolio naturally.
Don't give much attention to the P2P lending part. I am still waiting for the last bit of money to be paid back so I can remove it from my portfolio!
Monthly cash-flow is still the same in this portfolio update. I didn't add anything to my cryptocurrency portfolio this month. There is, however, still cash in the Coinbase (broker) account so I'm still buying €10 worth of Bitcoin every 3 days. My cash savings and ETF investing were a bit more this month due to getting my vacation money paid out.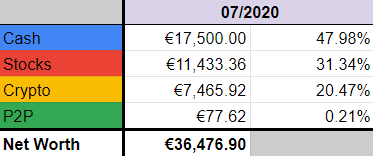 Cash: Saved €1000
Stocks: Invested €1300  + €17.64 

appreciation

Crypto: Invested €0 – €1278.26 appreciation
P2P: Withdrew €0 – €0.95 appreciation
As you can see, I saved a bit more this month than usual. €2300 saved in one month is certainly not a bad month. This together with the portfolio appreciation has increased my net worth with around €3600. I became 10% more wealthy in just one month! If I could do that every month I'd be lying on a beach somewhere in no time.
This was the portfolio update for July 2020, it was a very decent month. I stuck to my plan, as I should, and we are slowly building up that sweet net worth. I can't wait for the 6 figure mark but that is still a long way to go. If you are interested in my journey or are doing something similar, don't hesitate to subscribe or follow me on Instagram (both at the top). I'm trying to take Instagram more seriously lately! If you have any questions, don't hesitate to get in touch. I am always glad to hear from you!