Hello, it has been a week or two since my last post. I have been enjoying some holidays which made me less productive. Gladly, I am back at it again with another monthly update. Let's take a look at my portfolio update for August of 2020!
Don't forget that you can always find an up to date overview of all the 'numbers' in my portfolio on the My Portfolio page.
I am still in the green across all categories. Cryptocurrencies had amazing gains over the last few weeks. Especially Ethereum, which is now up almost 130%! My ETFs are doing their job quite good as well. Slowly but steady gains are the way to go! I am contemplating buying one or more single companies. This could increase my portfolio gains but it will also add more risk. I will think about it for some more time. I don't want to rush anything when it relates to my finances.
I am still, slowly but surely, liquidating my P2P lending portfolio. There are only 40 euros of my own money left on the platform. This is not an amount I should worry about!
Monthly cash-flow is still the same in this month. I also didn't add any more money to my Coinbase account. I still have more than €200 in cash over there. This should be sufficient to buy €10 every three days for the next two months. I will probably start adding more cash in September or October.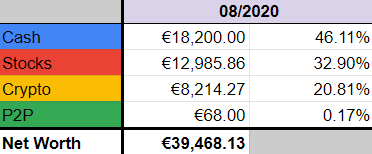 Cash: Saved €700
Stocks: Invested €1000  + €552.50 

appreciation

Crypto: Invested €0 – €748.35 appreciation
P2P: Withdrew €10 – €0.38 appreciation
Yet again we had a very decent month. My net worth is up around €3000 compared to last month. Let's try and keep up the good work. With a bit (A LOT) of luck, I could be worth close to €50.000 by the end of this year. Although, we would need some pretty good market conditions!
This was it for the portfolio update of August 2020. Again, a month where I stuck to my plan. Sticking to the plan is pretty easy when markets are doing well. Unfortunately, this will not always be the case. Let's just see what to future will bring and keep on investing!