Hello, fellow investing enthusiasts! April is already over so I am back at it again with another update. It has been a few months since my portfolio was at all-time highs. Current world affairs cause a lot of uncertainty and this shows in the financial markets. I hope that each and every one of you is safe and doing fine. Let's dream of better days ahead!
Let's take a look at the portfolio update for April 2022.
Don't forget that you can always find an up-to-date overview of all the 'numbers' in my portfolio on the My Portfolio page.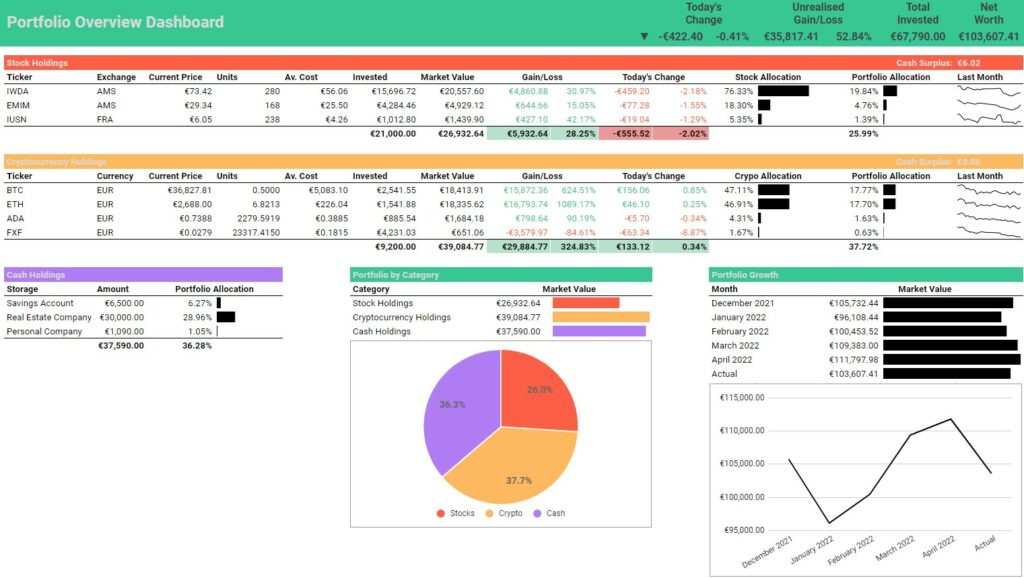 Last month I finally got back on track with the monthly savings/investments. This month I managed to do the same! I added €2000 to the savings account. If I am able to continue this trend, I should be able to start investing substantial amounts again in two months. I plan to do this once my Savings account reaches €10.000. I believe that should be enough of a buffer. I also had some income from my web design side hustle. This is the reason my Personal Company account has +€1000 in it as well.
April was not the best month for the stock market. Several (big) companies missed earnings, uncertainty is written all over current times so logically these are not the greatest times for investors. Interest rate hikes will probably continue throughout this year as well. Fortunately, I am still pretty young and early in my investment career. If I just stick to my plans, I'll probably be fine in 10-20-30-40 years' time. Consistency is key!
Cryptocurrency markets have obviously been slacking and my latest Finxflo investment is not going great at all. Luckily, I knew this was a riskier investment. I only put in a couple of percentages compared to my net worth. They are revealing a new website in a couple of days and hopefully some new features real soon as well. I am honestly contemplating investing a bit more. Let's wait for the new website first. The team has been slacking on the delivery of new features so I want to know if they can pull off the new website first.
Anyway, enough about Finxflo. I have always been a big advocate of having most of your crypto portfolio in Bitcoin & Ethereum. This is still the case and I also still believe that these will do fine in the years to come!
There are no changes in my cash flow since last month. You can still see an overview in the screenshot below. Right now I am trying to save as much money as possible in cash as mentioned above.
Keep in mind that I have money coming in from a second (restaurant) job, as well as my side hustle. This is not mentioned in the screenshot below as it is not really predictable at this time. 
Cash: Saved – €3063.15
Stocks: Invested €0 – 

€1310.54

 depreciation (!)
Crypto: Invested €0- €7528.2 depreciation (!)
Last month, all three categories were in the green. Unfortunately, this was not the case in April. On the contrary, both my ETFs and cryptocurrencies have lost a decent amount of value in the last few weeks. With a few years of investing experience under my belt, I really don't mind these swings anymore. You, sort off, grow into them as the portfolio grows.
I still have too much money invested in cryptocurrencies compared to my other investments. I have said before that I would not recommend this to anyone else. It still is a riskier investment and, although I believe it will continue to do well, can easily depreciate a lot in the coming years as well. Always do your own research and invest only in the things YOU personally believe in.
Part of my cash position is in a real estate company that I started with two partners a couple of months ago. In April we officially bought our first property. It is a small apartment that we want to renovate and flip for more money than we spend on it (hopefully). Technically speaking this means that (part) of that money is not actually cash at this point. I will update the numbers once we sell the property again in a few months.
It still looks like 2022 will not go into the history books as one of the best investing years. Unfortunately, there are worse things happening right now for which it will be known throughout history. Let's hope that better times are coming and rather sooner than later. If things escalate further they will affect all of our futures.
Stay safe everyone, I'll see you in the next update!