Hello, Investing Youngsters and Investing 'not-that-youngsters'! Let me start by saying that these are difficult times in which I hope you and your family are doing okay. The next couple of weeks, months or even years will probably not be the best humankind has seen. That being said, we WILL get through this, it just won't be easy.
I'm going to give an update on my P2P Lending portfolio. This, with the means to be as transparent as possible.
As you probably already know, the current circumstances are not great for all kinds of different companies worldwide. Some of them are already laying off employees, others are requesting government assistance. Even though a lot of governments and central banks are doing everything they can to mitigate the effects of this crisis, we will probably see more people losing their jobs. There is a strong possibility that some companies will go under as well.
This could mean that default rates will go up, which of course is not good for lending companies and thus my P2P Lending portfolio. I will give you an update on the plan and strategy for my total portfolio at the end of the month in my portfolio update. I can already give away that the main passive investing strategy will continue! The rest of this post will solely contain P2P Lending updates.
Short term P2P Lending plan
I have decided to not reinvest the money (and interest) that I receive from loans coming to an end. This means that my portfolio on Mintos will slowly be converted to cash. Since I only invest in short term loans this should go fairly quickly (My average loan duration is a little over 3 months). As you can see, I already have close to 20% of my account in cash (Available Funds) right now.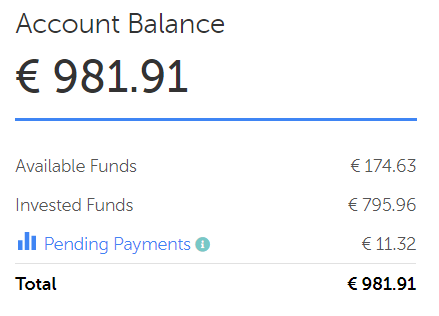 This does not mean that I don't believe that P2P Lending could be profitable during a crisis. I put a lot of time into choosing the best lending companies. This should mean that these companies have a better chance of getting through bad times like these. I will admit that I don't know how this crisis will play out for the P2P Lending industry so I'd rather sit at the sideline. This is a choice that everyone should make for themselves.
I have chosen not to sell all my loans on the secondary market but to just ride it out. To be fair I think it would be very difficult to sell on the secondary market right now since a lot of people are scared about what is to come and are trying to sell themselves. This is exactly the reason why I chose to invest in short term loans. Even if the secondary market is not able to buy all my loans, I'm still able to convert back to cash fairly quickly.
I will probably start investing again in P2P lending when the dust has settled and the effects of the crisis will become clear. I think we are still pretty early to grasp the full consequences of entire countries or regions being in lock-down. Let us all keep up our hopes. Like always, if you have more questions, put them in the comments down below!
Stay save.