Hello fellow investors, after enjoying a week of holidays I am back at it again with another post. This time I want to go over my investment/portfolio spreadsheet, since I got some questions about it. If you want to take a look at my actual spreadsheet you can check it out here!
The main tab of my portfolio spreadsheet contains an overview of my actual investments. Here I can find out how much I have saved up already. Also, how much all my investments are worth at this current time. You can always find my current portfolio here!
Every month when I buy some ETFs or Cryptocurrencies, I update my spreadsheet with how much shares I bought and how much it cost me. I use built-in google sheet formulas to give me actual share prices which I can use to calculate the current value bases on the number of shares I have. I can use these formulas for my cryptocurrency investments as well! If you want to check out the formulas in detail you can always check out the actual spreadsheet as I've mentioned before.
I also made a simple graph to easily show me my portfolio allocation. This way I can easily adjust strategies or monthly additions if needed. I can easily see the total investment amount and current net worth as well!
I also have additional tabs that I'm using to estimate future portfolio values and to follow up on my monthly investing budgets. At the top of each additional tab, you can find my income together with the budgets for each investing category. I use these budgets to make projections. At the end of each month, I fill in the real numbers at that time and check them with the previously made assumptions. Once the real current valuations are filled in, I write down why it is different from the projected values (this is done in dutch if you would check out the spreadsheet yourself). Most of the time I have to write down that the prices of my investments went up or down by a certain amount. Sometimes, I give an explanation as to why I didn't reach my planned investment amount.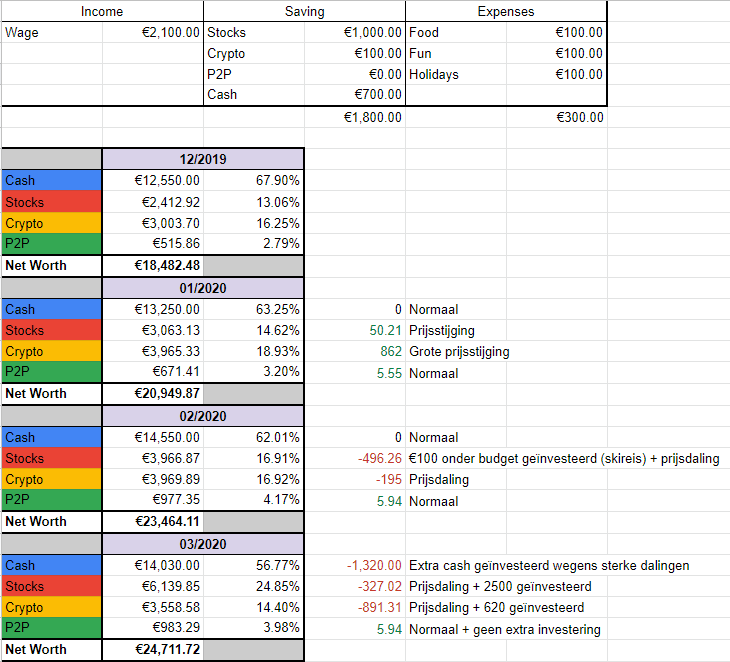 As you can see, this is not the most complicated spreadsheet out there. There are certainly things I want to change and add in the future but right now it is doing its job just fine. Feel free the copy my spreadsheet or build your own based on mine. If you have any questions or maybe even proposals for my spreadsheet, feel free to get in contact with me!