Are you looking for a way to automatically set up recurring buy orders on Coinbase Pro (or Binance, Kraken, Coinmate) because you do not want to pay the high fees of recurring buy orders on the main Coinbase platform? You want to periodically buy your cryptocurrencies so you don't have to think about it? This guide will help you out in no time! Absolutely NO costs or subscriptions required.
If you don't know about Coinbase Pro and you are still buying your bitcoin or other currencies directly on the Coinbase platform then please take a look at this post I made!
This is also no sponsored post. I'm not getting paid nor am I getting any advantages writing about this!
Let me show you how I am buying €10 worth of bitcoin every three days.
The first thing you need to do is go to https://dcabot.online/ and register a new account. This should be quick and easy, and will only take 2 minutes.
After you're done registering go to your Coinbase Pro account and generate a new API Key with view and trade permissions. Transfer permissions are optional but not needed
Make sure you copy the passphrase to a temporary file somewhere we will need it later!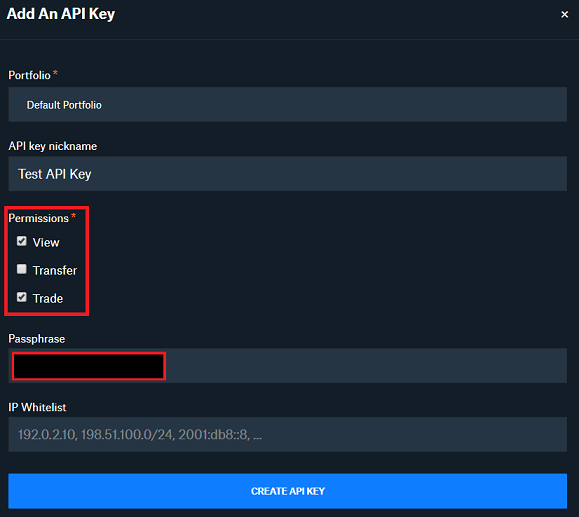 Now create your API key. You'll have to put in your 2-factor authentication key. If you are not using 2-factor authentication set it up as soon as possible! Now you will see your API Secret. This should be copied to your temporary file as well since you will not see it again.
After this is done your API Key should be created. We will need this key as well!
Okay, the hardest part is over now. All we have to do now is enter the API Key, API key secret and Key passphrase add the top of your dashboard on https://dcabot.online/ and create a new DCA Bot.
Let's do the last and most fun part now! All we need to do is add the details about our recurring buys. You'll have to choose the cryptocurrency you want to buy (Bitcoin, Ethereum, Litecoin, Cardano, and ChainLink are available options). Choose which fiat currency you want to pay with (EUR, USD, or GBP). Choose the amount you want to purchase and pick the frequency. You can even choose to wait for certain price drops before you buy!
We are done. All you have to do is make sure that there is actual fiat on your Coinbase Pro platform after which you can sit back and relax.
Good luck!