The chances are quite high you are reading this post using one of the most popular browsers like Google Chrome, Opera, Firefox, Opera… Nothing wrong with that, but what if I told you that there is a way to earn some beer money while browsing the internet! Now that I have got your attention, let me introduce you to the Brave browser!
What is the Brave browser?
We live in a world where the internet is mainly used by corporations to earn money on the back of their users while gathering as much information about them as possible. The creators of Brave want to go against the tide. This browser concentrates highly on privacy and even has a build-in add blocker. Brave blocks the gathering of information by the websites you probably often visit. I'm thinking about Google, Facebook, … One cool small feature shows the number of ads blocked and the alleged time saved on loading pages. I've been using the browser myself for a little while now and here are my stats:

This instantly shows you the advantages of using Brave. Brave can be up to 2 times faster than Chrome on your desktop and apparently 2-8 times faster on your smartphone. The blocking of data gathering on your phone is an even bigger advantage because you won't use as much data.
I know what you are thinking. Right now Brave just sounds like a browser with a build-in ad blocker. This is just partially true. You have to ability to see ads if you want to. You can even choose the maximum amount of adds you want to see every hour up to a maximum of 5. If you opt-in for these advertisements you will earn money in the form of BAT tokens (more on this later). Advertisers have the ability to buy adds with brave. When you see the advertisement, 70% of the profits go to you and 30% goes to Brave.
The reason why I am talking about this right now is that the option to earn money just became available in Belgium. I have a feeling that not a lot of advertisers have chosen to advertise in Belgium yet. Probably because it is a newly added region, so I think this will get better in the future. Apparently, some users earn 5-10 dollars each month. This translates to 60-120 dollars each year, which I think is not bad for doing absolutely nothing!
What is this Basic Attention Token?
You are probably wondering why I am talking about a browser on my page about cryptocurrencies and I don't blame you! Well, the money you'll earn while using this browser is paid out in Basic Attention Tokens or BAT. BAT is a cryptocurrency based on Ethereum. BAT is currently the 31st biggest cryptocurrency in the world. You can also trade it on different exchanges like other cryptocurrencies out there!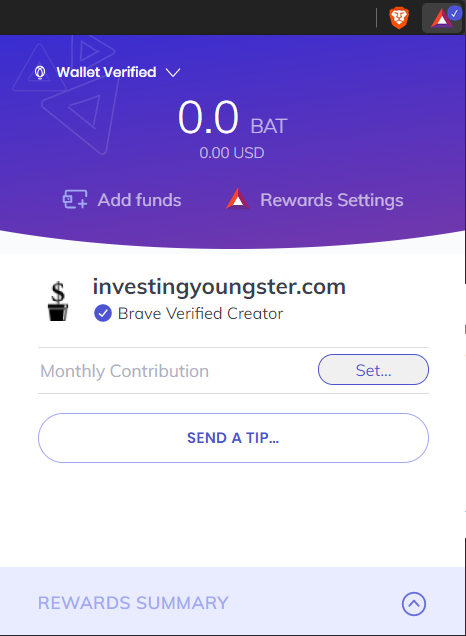 In my opinion, there is no reason to not try this browser. Even if you don't want the little extra money it will help you browse faster and it will make sure your privacy is guaranteed. If you have any more questions about the Brave browser or you want to share your experience with the browser, don't hesitate to put it in the comments below. Once you earned some of them sweet Basic Attention Tokes and you don't know what to do with them you can always give a small tip to your favorite content creators by clicking on the BAT logo (triangle) in the upper right corner of the browser!