Hello everyone! It has been some time since I posted. I was on a ski trip last week so that is the reason why this blog update is quiet late. Sorry for this! January was my first full month blogging. Let us take a look at the number!

This month I got 948 unique visitors of which 920 were new users. The amount of sessions (aka website visits) I got was 1456. This means that some users came to my website more than once for an average of 1.57 sessions per user. All these numbers are up big time from last month. The number of website visits went up almost 10 times!
The amount of single page views I got is 2862. This means that the average users visits 1.93 pages on my website before leaving. The amount of page views is obviously a lot higher than last month as well. The amount of pages that each user views on average each session went down a bit. I still think that almost 2 pages per session is quiet good.
The time spend on my blog for each user is a little more than 2 minutes. This is down a bit in comparison to last month but I did some research and apparently 2-3 minutes is quiet standard. As long as I stay above 2 minutes I'm happy!
The last important number is the Bounce Rate. This percentage lets you know the amount of time people leave after only seeing one page. The lower this number gets, the better. This month the bounce rate of my blog was almost 70%. This is up a bit from last month. Maybe I should try to get people to check out more other pages as well.
As you can see I got significantly more views than last month. I continued to link to my blog when I felt that it could be an answer to questions people had (mostly on Reddit). I decided that I will not do that as much in February (except for maybe 2-3 times when I feel that I can really help someone out). This way I will be able to see how the blog performs without me advertising it so much.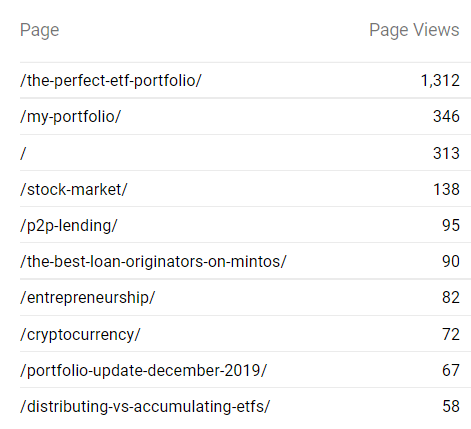 There is not much I can say about this. My best performing post is still The perfect ETF portfolio. Apparently people are quiet interested in my action Portfolio as well, which is quiet nice. Look at me linking to other post to keep you guys on my blog! I'm glad to see that some other post got some traction as well without me using them in comments on Reddit.
Blog posts and interactions
The last numbers I want to talk about are the ones showing my output and the interactions I get on my blog posts. The amount of posts I made in January came to a total of 6. This is about the same amount as I did in December. I still want to try and get it up a little but this seems more difficult than I thought!
Lets see how many people commented! I will try and only count the initial comments someone makes on a blog post. This means that all the answers to this initial post will not count to the actual 'comment score'. In the month of January I got 13 of these comments which is more than I could hope for! I love answering your questions so don't be shy!
Starting this month I have another number that I can talk about. Since last week people are able to subscribe to my blog and get updates when I put out new blog posts. I already have 5 people that are interested enough in my journey that they subscribed. A special thanks to all of you!
In the coming days I'll try and get an overview of these monthly number in a nice graph which you will be able to find on the Entrepreneurship page!
Do you want any other information or numbers about the performance of the blog? Do not hesitate to ask me!
Lets see where we are next month!